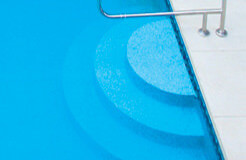 At Suntan Pools, we carry a wide variety of inground pool steps to meet your needs. We are a premier dealer for Fort Wayne Pools, and our customers love their high quality steel inground pool steps made specifically for vinyl liner pools. The design of Fort Wayne Pools steel pool steps makes them a part of the pool structure allowing the steps to be covered completely by the vinyl pool liner, ensuring a clean and seamless look. Our wide selection of steel inground pool steps includes a variety of specialty options including benches and ledges to add functionality and comfort to your in ground pool.
If you have been considering the idea of in ground pool construction or want to learn more about your options, call our St. Louis inground pool experts today for a consultation.
Choosing Steel Inground Pool Steps for Convenience and Style

Complementing our quality selection of hot tubs and in ground pools, we offer premium add-ons and options like durable inground pool steps that will last a lifetime and add functionality to your pool. We have a variety of styles available and can customize your steps to your needs. When you work with Suntan Pools, you can be sure we always follow your instructions implicitly and make sure you always get the best value for your money.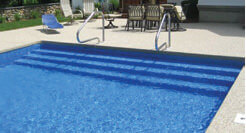 So, why should you choose our steel pool steps from Fort Wayne Pools?
Technical Brilliance: All of our steel inground pool steps are designed with the best technology. They are durable and functional so that you can use them easily for years to come.
Craftsmanship: Fort Wayne inground pool steps are made from 14-gauge copper. This is bearing steel that is known for its strength. The steps are then coated with heavy zinc galvanization to give you that extra powerful finish. This ensures that you get the very best product on the market.
Flexibility: We offer you a range of options when selecting inground pool steps. For example, we offer steps, benches, and ledges of all sizes and made to any radius. We can even custom-design steps for any pool.
At Suntan Pools, we have built our reputation on customer satisfaction and quality service, so you can have peace of mind when working with us. Not only do we focus on the aesthetics of the final installation, but also safety and durability. We have a team of highly qualified and experienced staff who are able to offer unique solutions to customers who entrust us with their pool projects.
Learn More About Our Steel Inground Pool Steps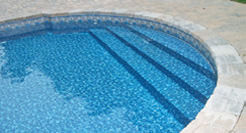 If you are considering an in ground pool construction project, call or contact us online today and we will happily talk with you about what to expect and what options are available to you. Our partnership with premium brands along with our experience as a leading pool installation company in the St. Louis area ensures that your job will be done right with the best materials. We pride ourselves on installing high quality in ground pools and selling the best products such as Fort Wayne inground pool steps. Contact us today to learn more!