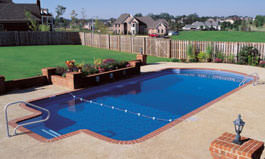 An old pool can be an eyesore that you do not want to look at, or much less swim in. Old pools can also require frequent and costly repairs or maintenance. Remodeling an old pool can breathe new life into your pool and make it a beautiful fixture in your backyard. There are many different ways that you can update or remodel a pool. From replacing a vinyl liner to adding new lighting and landscaping, Suntan Pools offers a variety of inground pool remodeling and updating services.
If you live in the St. Louis area, and you are looking to give your inground pool a makeover or update, contact us at Suntan Pools today.
Major Inground Pool Remodeling & Renovation
If you have an old pool that has begun to look outdated or is in need of major repairs, there are many different things that you can do to remodel your pool. From tearing out the pool and replacing it with a new pool to adding a number of luxury features such as a rock water-slide, a beach entry, or a hot tub, the options are limitless when remodeling your pool.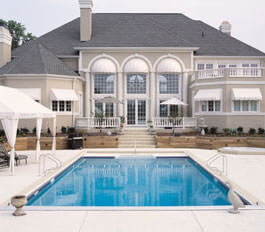 At Suntan Pools in St. Louis, we offer a wide range of inground pool remodeling services for those who are looking for a major pool remodel. We can help with services such as:
Redesigning the shape of your pool: If your existing pool is in very poor condition or in need of major repair, the best approach to repairing it may simply be to tear out the pool and replace it with a new pool. When doing this, you can also redesign the overall shape and size of your pool as well.
Adding a hot tub or a spa: A hot tub or spa can be enticing after a hard day's work or when relaxing with friends and family. Soaking in hot water will relax your body, ease your worries, and help you to de-stress. Many old and new pools can be enhanced by adding spas and hot tubs.
Adding a waterfall or a slide to your pool: You can significantly increase the fun factor of your inground swimming pool by adding a waterfall or a slide. People of all ages enjoy slides and waterfalls.
Additional Inground Pool Remodeling Services
In addition to major inground pool remodeling projects, we also offer a number of other inground pool remodeling services, which can update your pool area. These include vinyl liner replacement, pool area landscaping, and lighting installation.
Vinyl Liner Replacement
Vinyl liners typically have a limited expected life span as they fade and become torn over the years. Therefore, you will usually need to replace your inground pool liner as part of regular maintenance. Replacing a worn vinyl liner will help prevent leaks. Additionally, since pool liners become faded over time, a new vinyl liner will leave your pool looking updated and refreshed.
Swimming Pool & Backyard Landscaping
Landscaping is not only about planting a few bushes and flowers around an inground pool. It also includes designing and creating an environment that will enhance your enjoyment when using your pool. This means planning and creating a deck or patio, redesigning the walkway, adding water features, building fencing, and finally planting shrubs, trees, and flowers around the pool. In addition to these permanent landscaping features, it is also important to carefully consider how your finish your backyard design with accessories like tables, chairs, fire pits, and grills.
In and Around Pool Lighting Installation
In-ground lights are embedded into the pool floor and walls and light up the water from inside. Above-ground pool lights, or landscape lights are those that you install in the landscaping surrounding the pool. Landscape lights can be either aesthetic in nature, which are more for enhancing the look of the pool, or functional designed to provide light around the pool. Fountain lights are those are installed on a fountain. These can be a variety of colors and create an aesthetic appeal.
Contact Us for Inground Pool Remodeling in St. Louis
To learn more about our inground pool remodeling services or to talk with our professionals about the many options available to you when designing and remodeling your pool, contact us today at 314-293-7665. As pool installation and remodeling experts in St. Louis, we look forward to working with you to create the pool of your dreams.