Suntan Pools: A Leader in St. Louis Custom Swimming Pools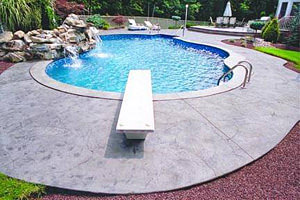 Suntan Pools is a premier builder of custom in ground swimming pools in St. Louis, Missouri. Located in Oakville Missouri. We are experienced in building quality, affordable in ground pools for the St. Louis area.
As a leading pool contractor, Suntan Pools can build your dream swimming pool and transform your backyard into your own oasis. We offer top quality craftsmanship so you can be certain that your in ground swimming pool will add value to your home and will last for years with minimal required maintenance and upkeep.
Quality Pools Designed to Last
We build quality in ground vinyl liner pools that will provide you and your family with enjoyment for many years to come. Our quality pools come with only custom fit, quality vinyl pool liners from leading manufactures.
These vinyl pool liners offer fade resistant colors and superior materials designed to prevent cracks or tears.
We offer a wide selection of vinyl liners in a variety of colors and patterns from which our clients can choose so that everyone will be able to create the pool that fits their décor and tastes.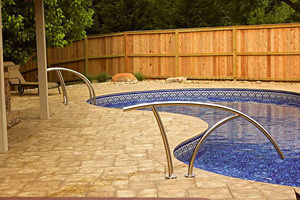 While Suntan Pools is a leader in building custom in ground pools, we offer a variety of other supplementary services to our clients around South County and the St. Louis area as well. These services include the following pool care and construction services:
Maintenance Services: Suntan Pools offers opening, winterizing, and weekly pool maintenance services for our clients.
Pool Renovations: If you current swimming pool is in need of some sprucing up, we offer swimming pool renovation or remodeling services. Pool remodeling can include replacing accessories, enhancing landscaping, or modifying pool lighting to create a different, revived and up-to-date look.
Pool Repair Services: We perform a number of pool related repairs including fixing broken heaters or pumps.
Custom Deck Installation: Suntan Pools will complete your backyard transformation with decking or patio installation alongside of your new in ground pool.
Pool Accessories and Products: Make Suntan Pools your St. Louis area supplier of pool accessories and products including in ground pool covers, pool cleaners, swimming pool lighting equipment, and pool pumps and filters.
Start Construction on Your In Ground Pool
If you would like to find out about building your new in ground pool, contact Suntan Pools today. As a leading contractor for swimming pools, Suntan Pools would love to help you create your dream pool. With our experience in building superior in ground pools, our design team will work with you to create the swimming pool that you have always wanted. We offer a variety of pool related products and accessories to complete your installation and set up in order to get you ready for enjoying your new pool. In addition, our pool maintenance services make owning a pool simple and carefree. If you are interested in learning more about any of the services offered by Suntan Pools, in St. Louis, MO, please contact us.