Suntan Pools is a leading swimming pool contractor located in St. Louis, Missouri. We specialize in building custom vinyl inground swimming pools in Oakville and around the South County area. Our pools are durable and built to last with superior quality vinyl liners that resist fading or tearing. A custom pool from Suntan Pools is a wonderful addition to your home that can increase your home's value. If you are interested in finding out more about our local custom vinyl pool building services, please feel free to contact us.
In Ground Swimming Pool Construction in South County
At Suntan Pools, we are experienced swimming pool contractors specializing in vinyl pools for residential customers. We offer durable vinyl liners in a variety of colors and patterns so that you can design the in ground pool you desire. Our durable vinyl liners are manufactured with colorfast inks designed to prevent fading as a result of the UV rays from the sun or standard pool chemicals. In addition, these liners utilize only superior quality materials, resulting in a finished product that will last for years to come and will resist cracking or tearing. If you would like more information about our affordable swimming pool construction services in Oakville, Missouri, contact us and one of our knowledgeable representatives will be happy to help.
Custom Pool Design: Create the Look You Desire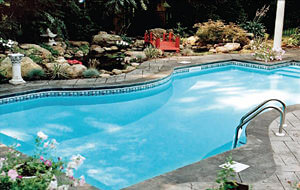 Each of our unique clients comes to us with specific ideas and visions of what their custom pool should look like. At Suntan Pools, we offer skilled design and pool construction services so that you can create the customized swimming pool of your dreams. With a variety of shapes and liner patterns from which to choose, we focus on providing our clients with the ideal swimming pool to fit their tastes and lifestyle.
There are several things to consider when selecting a swimming pool design from Suntan Pools, a leading St. Louis custom swimming pool contractor. These issues, which can affect the design of your in ground pool, include the size and shape of your available space and the activities for which you will most often use your pool. Other considerations when building custom inground pools include the décor of your space and the atmosphere that you are trying to create. Whether you are looking to create a tropical oasis or a lively space for family fun, our professional pool contractors can help you through the design process for your swimming pool.
If you are looking for a local swimming pool contractor in Oakville to help you design the pool of your dreams, please contact us today. Our professional staff can provide you with more information about our custom in ground pool construction services.
Learn More About Designing your Custom Swimming Pool