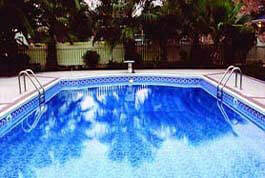 Pool liners are an integral part of any inground or above ground pool designed to be used with a liner. These liners act as a barrier to keep the water in the pool as they form the watertight wall coating. Pool liners are typically made to be durable and withstand the sun and other elements, but even still these liners must be maintained and replaced regularly to ensure they remain in good condition.
The earliest pool liners were made from vinyl. These came in limited sizes and were not aesthetic. However, there are many synthetic blends and materials that have now been developed. Today, pool liners are available in many styles, designs, and thickness.
If you need your pool liner repaired or replaced, we, at Suntan Pools in St. Louis, offer expert service to help. From repairing and patching small tears and rips in your liner to replacing pool liners, we can handle it all.
To learn more about our services or to schedule a service call, contact us today at 314-293-7665.
What You Need to Know About Repairing and Replacing Pool Liners
The life of a pool liner is determined by many factors such as water chemistry, climate, installation technique, exposure to the sun and elements, and frequency of pool use. For instance, the more the exposure to the sun, the faster the rate of fading, cracking, and wearing of the pool liner. However, many newer pool liners come standard protective UV coated that allow them to resist color fading and wearing from sun exposure. Another factor that can cause your pool liner to wear out more quickly is improper pool draining. Letting a pool sit empty can cause the pool liner to shrink and fail.
If your pool liner cracks, fades, tears, or otherwise becomes warn, you will need to repair or replace the liner. Pool liners with minor damage and tears can often be patched. However, for seriously damaged pool liners, replacement is necessary.
There are important steps that should be taken during the installation to ensure proper installation. For example, creases and wrinkles have to be removed. This will lead to a better fit and make the liner more stable. The liner should be kept moist and warm during installation. This will make it more pliable and reduce the risk of damage.
At Suntan Pools, we can answer all of your questions about caring for and maintaining your pool liner.
What Options Are Available in Pool Liners?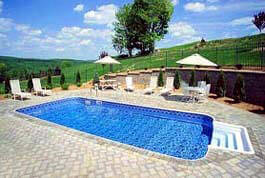 If you need a new pool liner, we offer a wide variety of options when it comes to vinyl inground swimming pool liners for our St. Louis and South County customers. We have liners available in many made to fit sizes and they are designed to last for years.
We have a large collection of pool liners available with a variety of different unique border designs and patterns. Our collection includes:
Whether you are looking for a liner for your new pool or you need your pool liner replaced, we encourage you to browse through our wide collection of pool liners. We are sure that you will be able to find a design and style that you will like.
Contact Us for the Repair and Replacement of Pool Liners in St. Louis
With proper care, pool liners can last for years. If you want to learn more about vinyl pool liners or if you would like to request a quote for the repair or replacement of your liner, contact our expert pool installers in St. Louis at 314-293-7665.