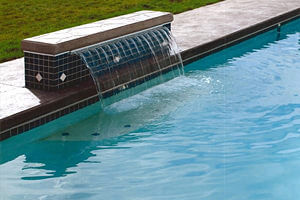 Suntan Pools is a leading swimming pool builder and in ground pool installation company serving homeowners located throughout St. Louis. Specializing in the South County area, including Oakville and the 63129 zip code, Suntan Pools offers quality in ground pool construction, maintenance, and repair services at affordable prices.
If you are interested in learning more about our custom vinyl pool installation services, please contact us by completing the form below. Our knowledgeable pool builders will contact you promptly to answer any questions that you may have or to schedule your pool design consultation. Our professional staff will work with you on an individual basis to determine the best pool layout and liner choice in order to create the back yard oasis of your dreams.
As a small business, we recognize the importance of providing each customer with professional service and quality results. As much of our business results from customer referrals, it is our ultimate goal to provide maximum satisfaction for each of the swimming pool design and installation projects, which we complete. If you were not satisfied with your experience with Suntan Pools, we invite you to complete our simple contact us form and let us know.
Oakville Custom Pool Company: Our Services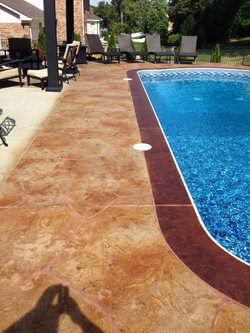 Suntan Pools is a leading custom vinyl pool construction company serving St. Louis's South County area. We specialize in swimming pool construction, design, renovation, repair, and maintenance for clients in Oakville and the 63129 zip code. In addition to these in ground pool services, Suntan Pools is a pool supply company selling both accessories and products. If you are looking for a local South County swimming pool company, contact Suntan Pools in Oakville, Missouri.
Custom Pool Installation
Suntan Pools designs and builds custom vinyl swimming pools for residential customers. Our pool installation services include a variety of design and installation services in order to turn your backyard into the outdoor oasis of your dreams. The following are installation services we offer to clients around St. Louis.
Vinyl Liner Pool Installation
Suntan Pools is experienced in creating custom vinyl liner in ground pools and can help you to determine the ideal in ground pool to meet your needs. With our selection of shapes and sizes, we offer a variety of in ground pool designs. In addition, each of our vinyl in ground pools comes with a durable vinyl liner made to last for years to come. With a wide selection of in ground pool vinyl liner patterns and pool shapes and sizes from which to choose, our experienced staff can help you determine the ideal style of pool to create the look and feel you desire.
Pool Renovations
We offer pool renovation services to dress up any existing pool. From landscaping and accessorizing to modifying lighting in and around your pool, Suntan Pools can transform your in ground pool into the tropical escape you desire.
Deck Installation
Suntan Pools does not stop at designing and building the perfect in ground pool. We will also complete your back yard transformation with custom patio and deck installation services. Custom decks or patios can surround your new in ground pool creating the aesthetically pleasing look you desire and increasing the functionality and usability of your new outdoor living space. Contact us if you are interested in learning more about custom deck installation to surround your new or existing pool.
Pool Maintenance and Repair Services
Suntan Pools is not only an experienced in ground pool construction company in St. Louis, but also we have experience performing pool maintenance and repair services. The following are some of the residential swimming pool services and repairs that our company can handle.
Season Pool Service, including annual opening and winterizing of pools
Weekly Pool Maintenance
Pool Heater Repair
Swimming Pool Pump Repair
Vinyl Liner Replacement
And much more!