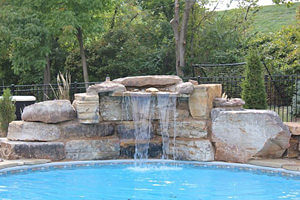 Suntan Pools offers a variety of swimming pool services including in ground pool construction, weekly maintenance, repair, and remodeling services. With over 35 years of experience in the swimming pool industry, we are proud to serve our clients throughout the St. Louis area especially in Oakville and South County. As a company dedicated to achieving superior customer satisfaction, it is our mission to exceed customer expectations with each swimming pool construction or maintenance service that we offer. It is through this commitment to quality and satisfactory results that we have become a leading builder of in ground vinyl liner swimming pools in the St. Louis area.
In Ground Pool Maintenance, Construction, and Repair Services
With a wide range of services offered, call our pool construction, maintenance, and repair company for all of your residential in ground pool service needs. The following is a list of services offered to our valued St. Louis Customers. To learn more about our in ground pool construction services or any of the other swimming pool services listed below, please contact Suntan Pools today.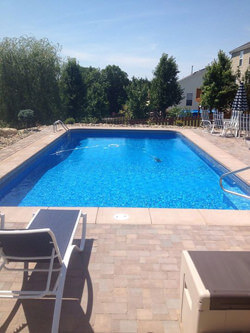 Annual Swimming Pool Opening and Winterizing (Closing) Services
Weekly Inground Swimming Pool Maintenance or Pool Care
Hot Tubs & Spa Sales & Installation
Steel Inground Pool Step Installation
Swimming Pool Equipment Repair Services- Including Heater, Pump and Filter Repair
Inground Pool Remodeling and Renovation
Brick, Tile, Plaster, and Pebble Tec Installation and Repair
Acid Washing for Concrete In Ground Pools
Repair & Replacement for In Ground Swimming Pool Liners
Salt System Installation, Maintenance, and Repair
Swimming Pool Coping Services
Pool Safety Covers
Leak Detection for Swimming Pools
Pool Inspections
Upgrade Features
Decking Installation Around Pools
Pool Clean-Ups
Pool Maintenance and Cleaning Company in Oakville
Suntan Pools is your pool maintenance company in St. Louis and the South County area. We offer a variety of pool care services including basic weekly pool cleaning and maintenance as well as more in depth cleaning or repair services. If you are looking for a local St. Louis swimming pool care company to clean and maintain your in ground swimming pool on a weekly basis, Suntan Pools offers affordable pool care services. In addition, we are also available for annual maintenance including pool opening and winterizing. Finally, we are available for more serious types of pool cleaning and maintenance services including acid washing for concrete pools and heater, pump, and filter repair.
Learn more about inground swimming pool maintenance.
Swimming Pool Remodeling and Upgrades
If your existing in ground swimming pool is outdated and tired, Suntan Pools offers pool renovation services to help energize your pool space. With a combination of our services including pool cleaning or vinyl liner replacement, swimming pool area landscaping, in and around pool lighting installation, and backyard accessorizing, we can make your pool look like new. Contact us today to receive a detailed plan for your swimming pool remodeling service from Suntan Pools in Oakville, Missouri.
Learn more about inground pool remodeling.
In Ground Pool Vinyl Liner Replacement and Leak Detection Services
As a leading in ground pool construction company for vinyl liner pools, Suntan Pools is experienced working with vinyl liners. From finding and repairing leaks to replacing vinyl liners in existing pools, we can fix your pool liner problems. At Suntan Pools, we supply only quality vinyl liners from top name brands. These liners are designed to maintain their bright colors season after season and are made from durable materials in order to resist tears and cracks. If you are interested in vinyl liner replacement or repair services for your existing swimming pool, contact us.
Learn more about repair and replacement for pool liners.